How to get your CSCS Blue Skilled Worker Card
Guide to the CSCS Blue Skilled Worker Card
CSCS blue cards are a vital piece of evidence used by thousands of workers to perform their duties on construction sites every day. But how do you get one, and what training do you need? In today's blog, we look at the process of applying for a CSCS skilled worker card. How to get your cscs blue skilled worker card?
What is a CSCS blue card?
Blue cards are just one type of CSCS card. CSCS cards come in several varieties depending on the worker's qualifications and responsibilities on site. While they are not a legal requirement, the vast majority of employers in the construction industry will demand their workers hold a relevant one for their position. 
The CSCS blue card, also known as the CSCS skilled worker card, is used as evidence to prove the competence of construction workers across a range of different roles on site. Blue cards are only issued to experienced workers who have completed the relevant training needed to fulfill their responsibilities on-site safely and effectively.
CSCS blue cards are valid evidence for the majority of site workers, however, they are not usually enough for those overseeing the work of others. For those roles, it may be necessary to have a CSCS gold supervisory card or a CSCS black manager's card. For a full breakdown of the different types of CSCS cards, check out our guide 'Everything You Need to Know About CSCS Cards.
How do I get a skilled worker CSCS card?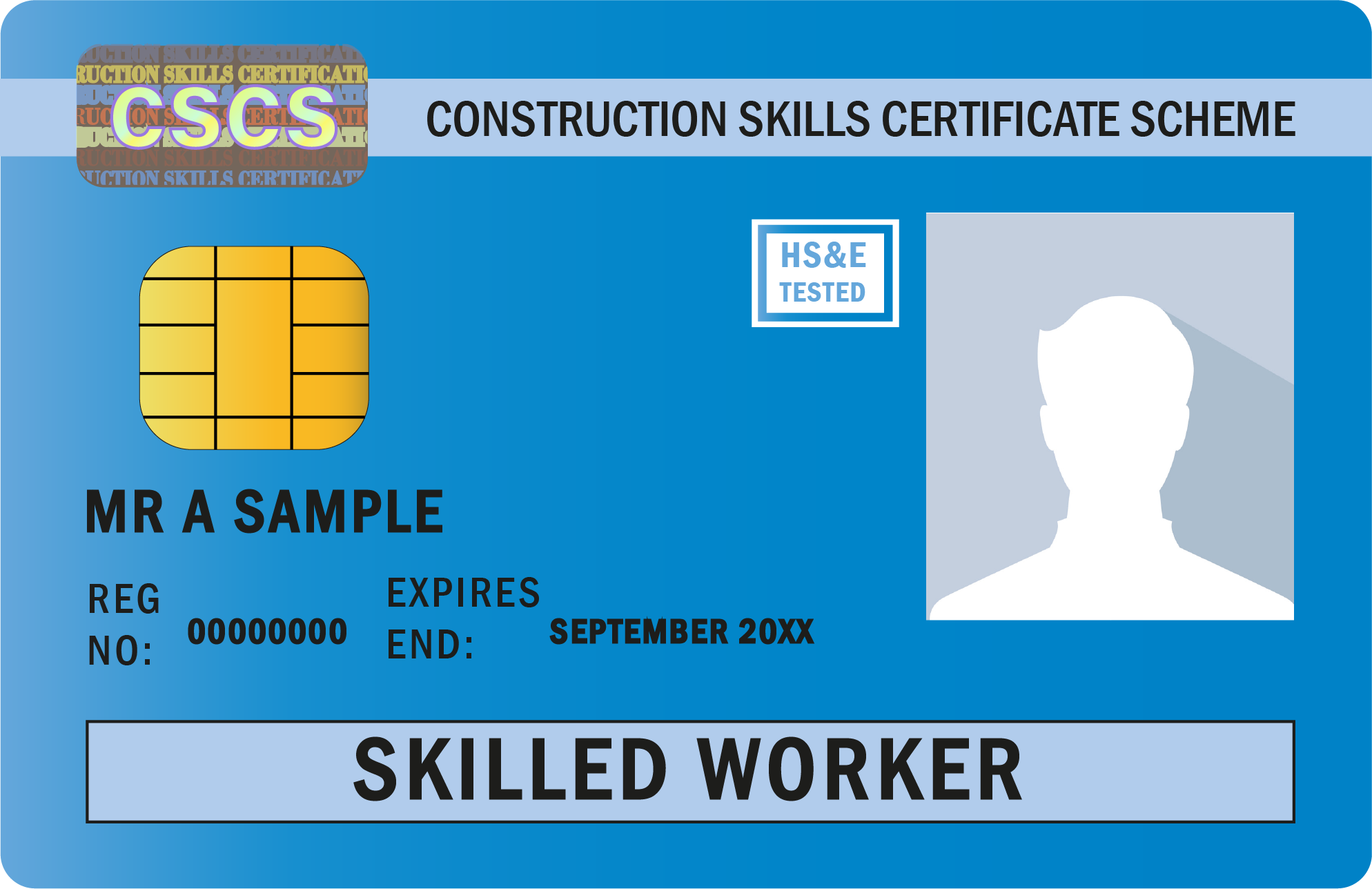 To get your skilled worker CSCS card, you need to complete a Level 2 NVQ or valid equivalent. Alternatives to an NVQ include apprenticeships, such as an employer-sponsored apprenticeship, a City and Guilds of London Institute Craft Certificate, or a CSCS Approved Trailblazer.
The qualification completed must be relevant to the specific tasks the worker carries out on-site. For example, if the worker has to operate cranes in their role, they may want to complete the Level 2 NVQ in Plant Operations – Cranes and Specialist Lifting. If a worker has many separate responsibilities on site, they can have multiple NVQs on one card, rather than a separate card for each discipline.
In addition to their NVQ, applicants must also have completed the CITB Health, Safety, and Environment Test (HS&E) within the past two years. This a multiple-choice test that checks workers have a fundamental understanding of the basics of site safety.
Can I get a blue CSCS card without an NVQ?
No. To get a CSCS blue card you need to have completed a Level 2 NVQ or equivalent. If you need to get on-site but don't yet have the necessary qualifications for a blue card, your best option is to apply for a CSCS red card.
CSCS red cards are temporary cards issued to those who have not yet completed the training needed for their permanent card. These cards are valid for a much shorter period of time and cannot be renewed. They come in several different varieties to meet your specific circumstances.
Apprentice – Workers who have started a CSCS-recognised apprenticeship framework
Experienced Worker – Workers who have on-the-job experience and are enrolled on a Level 2 NVQ or higher
Experienced Technical, Supervisor, or Manager – Supervisors, managers, or technical workers who have on-the-job experienced and who are enrolled on a Level 3 NVQ or higher.
Trainee – Trainees that are registered to complete a construction-related qualification acceptable for a CSCS card.
Provisional – Those working through a probationary period while employers assess their suitability for their job role.
As these temporary cards cannot be renewed, it's advised to start working towards a permanent CSCS card as soon as possible.
Alternatively, you could apply for a CSCS Labourer card, also known as the CSCS green card. This is an entry-level card for those who are working as generic construction laborers. To qualify for this card, you need to have completed the HS&E test, and a valid health and safety awareness course such as the CITB Health and Safety Awareness Course. Find out more about how to get this card by reading our blog 'How To Become A Construction Labourer'.
How to apply for a blue CSCS card
Once you have completed all the necessary training, the quickest and simplest way to apply for a blue card is through CSCS's online application service. To do this, you will need to have a scanned copy of your qualification certificate, the ID number from your HS&E test and a credit/debit card to pay the application fee.
How long does a CSCS card last?
CSCS skilled worker cards need to be renewed every five years. The process of blue CSCS card renewal is simple. If you already have a CSCS online account, you can log in and begin the renewal process. Depending on the specifics of your job role and the disciplines involved, you may be required to complete additional training or a refresher course.
CSCS training near me
We provide a range of NVQs which will allow you to apply for your CSCS blue card. We deliver Level 2 NVQs across disciplines such as construction operations, driving goods vehicles, plant operations, road building, and much more. Visit our online course index for a full list of options available.
We operate nationwide, so we should be able to deliver your training wherever you are in the country. Simply visit the relevant course page to make an inquiry.